Welcome to Teusaquillo Boutique Hotel
The Hotel Teusaquillo Boutique is a family hotel for business and leisure visitors, domestic and foreign, as a novel accommodation offer for those who need to be close to the International Center of Bogota, headquarters of the main companies, the American Embassy or Corferias.
We are also very close to the headquarters of the National Government, District Government, historical and tourist center of the city, Visit us and enjoy the City of Bogota, our hospitality and professional service, it will be a pleasure to receive them at home.
We are a hotel declared as "culturally interesting" by the District Institute of Heritage and Culture, whose construction dates from the first half of the twentieth century, we have a high architectural value, becoming a living testimony of the history and culture of our city ​​in the town of Teusaquillo.
Sustainability Policy
Teusaquillo Boutique Hotel, provides a comprehensive service of accommodation, food and beverages, committed to the knowledge of the needs of customers. Similarly, the hotel is committed to the sustainable development of the tourism sector of our country, supporting the conservation of natural resources, the promotion of cultural heritage and Colombian natural wealth, social work with communities, prevention of child sex tourism and Compliance with applicable legislation, involving our employees, guests and suppliers.
Date of approval: February 15, 2011.
Services Teusaquillo Boutique Hotel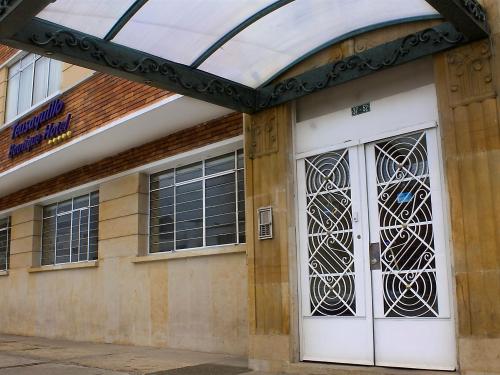 The rooms have a comfortable, modern and complete decoration, the services include:
• amenites kit
• LCD cable television (70 channels)
• Wireless Internet
• Security box
• Telephone with national and international dialing
• Minibar
• Hairdryer
• Radio alarm clock
• Electronic locks